NO HIDDEN CHARGES!
We pride ourselves in the fact that the price you see is the price you pay, no VAT to add, no release charges.
We also dont charge a low rate for the first year, then boost our prices when it comes to renewal time
Here is a table of some of the top domain sellers, and the prices they charge after all charges have been added, please note some of them also charge fee's if you wish to transfer your domain to another registrar.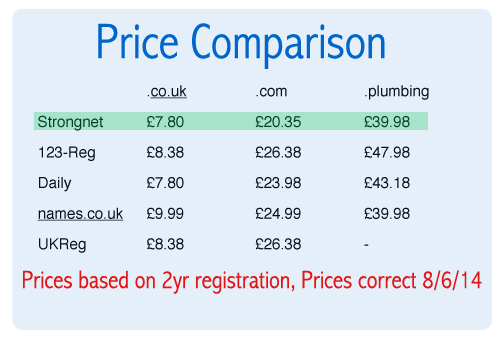 While researching data for the above table we found cases where a reduced rate was charged for the first year, them fee's were raised substantially at renewal time, and at this point you would be charge a hefty fee to move your domain name to another supplier.
At Strongnet we promise:
No Hidden Fees

No Release Fees

No Inflated Renewal Prices

VAT included in displayed prices
​

We are now an Accredited Channel Partner, the top tier of classification with Nominet, the .UK registry.
The accredited channel partner status means that as a registrar we have demonstrated high standards of data quality and service commitment to our customers.
We are also required to follow strict criteria as a business to ensure we have in place the proper processes and assurances so that customers can know they are in safe hands when using our domain registration and other services.
As an accredited channel partner we're now able to perform domain registrant ownership changes. This means Strongnet is able to help you better manage your domains and ensure your data is always accurate and up-to-date. If you need to change the Registrant on your .UK domains, simply submit a support ticket and we'll be happy to help!